Why We Use Containment When Cleaning the Mold In Your Home
2/6/2017 (Permalink)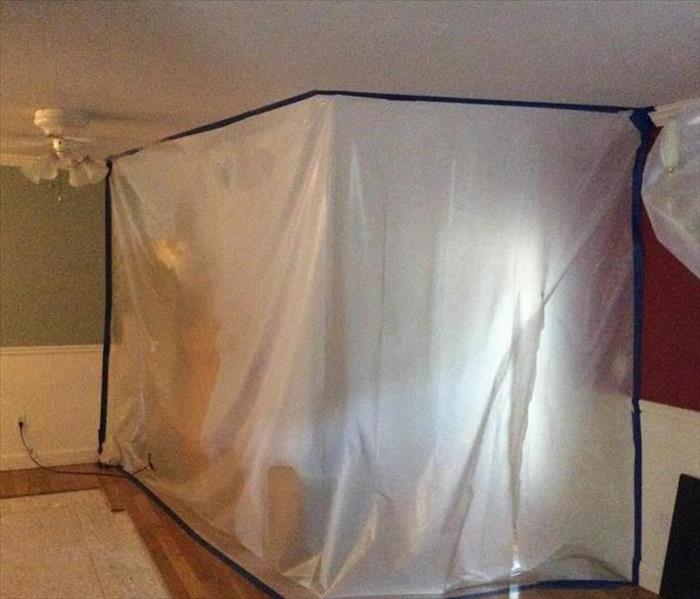 Build a containment with minimal leakage, and a specified pressure differential can be maintained with a small fan. Build one with lots of leakage and
This information was taken from Restoration and Remediation, and online magazine. It is beneficial to share information with you regarding mold and why we use containment in the remediation process.
The great mold warriors we meet and work with on a daily basis all have a common advantage- like the greatest generals in history, they know their enemy. More specifically they know and understand that the greatest strength of their enemy is its invisibility.
Before your own battle begins, you have to understand that you must strategically approach the enemy by devising systems to discover, collect, and contain it which will work despite your inability to visualise its presence.
Begin your battle by heeding the current Nobel Laureate for literature: "The answer my friend, is blowing in the wind, the answer is blowing in the wind." [Of course that was an anti-war song…but let's not get too hung up in details…]
Since we know our enemy, we know it's greatest weakness - it cannot move on its own accord. It is entirely dependent on air currents to power its invasion. Manage the skies, and you will win the war.
Erecting containment and generating and directing the air flow within that containment will enable us to win the air war, by controlling the enemy's movement.
Where is the most strategic location of this containment? It should be placed as close to the source of invasion as possible while still permitting us to gain access and accomplish our work.
Taken to its extreme, if it allows you to do what you need, it can be as small as a glove bag over a pipe, such as is used by our asbestos warrior brethren.
One of the most common flaws in mold remediation projects is a containment structure that is larger than it needs to be: Larger containments require more equipment for managing airflow, have more possible leak points, and require more time and effort to decontaminate prior to de-mobilisation. While erecting a containment, one must carefully balance the trade-offs between size and work access.
To do so, one can rely on the knowledge of experienced mold warriors and follow the established principles.